Needing to ensure worker safety and improve its maintenance access to the high pressure steam (HPS) supply for critical buildings at its West Point, Pa., research and manufacturing facility, Merck & Co. contracted Herman Goldner Co., Inc., to work on the installation of new steam mains and isolation valves at seven locations on the campus. The steam is used not only for heating but for research and production processes.
The purpose of the project was to allow for independent operation, shutdowns and back-feeding needs. Among several notable accomplishments made by the team throughout the project, including an innovative cost savings of $250,000, were:
20 steam shutdowns, with no impact to 14 different operating areas
56 tons of steel erected
75 tons of pipe/valves erected
20 crane lifts, all on weekends
Approximately 7,000 safe construction hours
0 recordable injuries
Safe construction strategies were widely implemented to ensure the safety of all construction site workers as well as the quality of the installation. Safety strategies included peer reviews of design documents and constructability reviews to assess hazards and identify solutions. This effort led to innovative solutions which greatly reduced the need for fall protection and significantly reduced the need for leading edge roof protection. Extensive shutdown planning was required to ensure there was no impact to operating areas and after-action reviews for each shutdown to identify possible improvements for future shutdowns.
Fun Fact

An innovative solution to pipe routing on the roof of building B38 resulted in great cost savings, but also safer maintenance execution and the means for improved building maintenance in the future. The new 16" HPS pipe & 6" HPC was originally designed to be installed at approximately 10 feet above the building roof. During the constructability review, a portion of the pipe was re-routed to the East edge of the building's roof. This pipe relocation enabled the installation of about 250 linear feet of pipe at three feet above the roof, versus the 10 feet needed previously, improving maintenance accessibility and worker safety. In addition, a scaffolding system was installed to improve safety for workers installing the remaining piping that was 10 feet above the roof.
The project also implemented various lean strategies to improve the quality of the construction and the overall execution of the project. These strategies included the maximized use of off-site fabrication of piping and supports with just-in-time delivery, coordination of shared crane activities, scheduling of crane lifts on weekends to minimize impact on site operations and following 5S guidelines for material staging and handling. The project took advantage of Goldner's off-site fabrication shop facilities to pre-fabricate piping assemblies and pipe supports, which minimized on-site roof work on occupied buildings. These lean initiatives enabled Goldner to achieve $250,000 in cost savings on the project.
The overall project received the "Best Medium Size Project" award within Merck's Global Engineering Services global portfolio.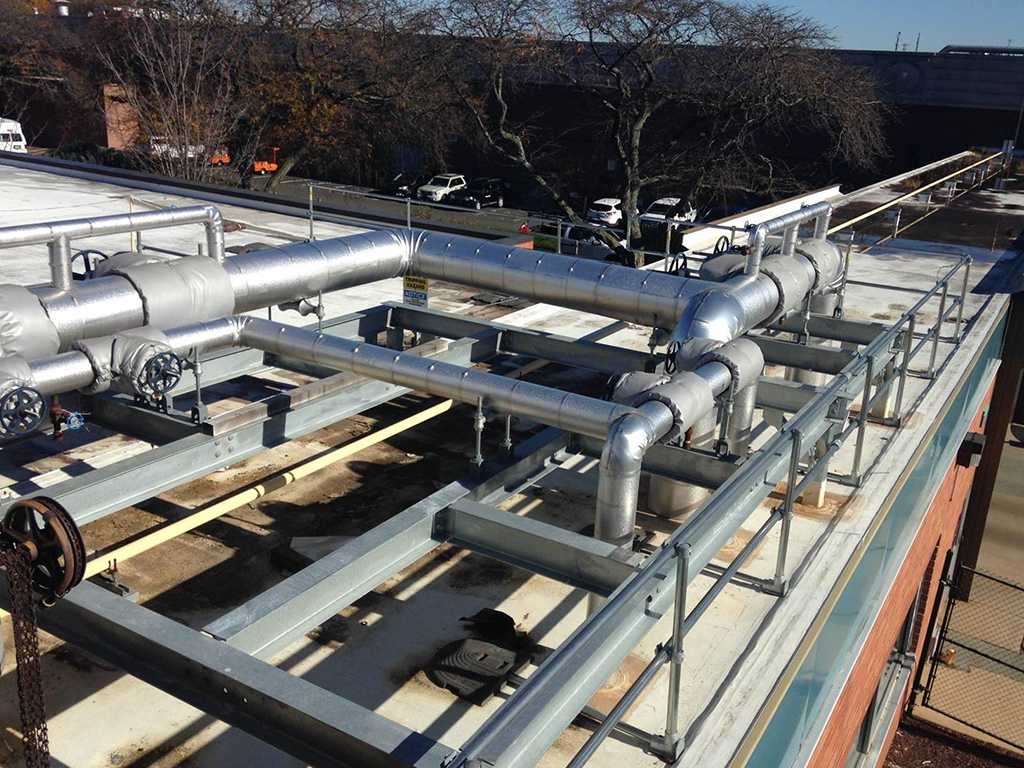 Download Article