On November 17th, Marvin Dixon, Director of Engineering with the Four Seasons Hotel, Philadelphia Gas Works and Mayor Michael Nutter held a press conference announcing a major going green initiative with the completion and start-up of three (3) 65kW natural gas fired microturbines at the Four Seasons Hotel in Philadelphia. This is the first large scale customer of PGW in the Philadelphia area to use the ultra-clean technology to literally take wasted heat and recycle it.
The microturbines are similar to a miniature jet engine contained in a case the size of a commercial refrigerator. The units only took up about 400 square feet. They generate electric power and usable exhaust heat providing hot water for domestic water and heating water applications. They provide an enormous reduction in NOx emissions and significantly reduce CO2 emissions. This project will provide 100% of the hotel's day-to-day domestic hot water, 25% of its electric and 15% of its heating hot water needs. The project is expected to reduce the carbon footprint of the hotel by 2,988 tons per year, the equivalent of 815 acres of deforestation or the removal of 509 cars off the roads. "The project is expected to reduce the hotel's annual energy costs by 30%."
"The Four Seasons hopes to set the standard for future generations. The microturbine installation is a step in the right direction to help Philadelphia become a more sustainable city."
- Marvin Dixon, Director of Engineering with the Four Seasons Hotel
The project consisted of three (3) natural gas fired microturbines using combined heat and power (CHP) technology, enabling the hotel to generate its own electricity and heating. Herman Goldner Co., Inc. was responsible for installation of the three (3) microturbines, new roof steel work, coordination of all crane picks, installation of the associated distribution piping, installation of six (6) plate and frame heat exchangers, insulation work and all associated energy management controls.
"It wasn't all about savings," Dixon said. "We were just as interested in doing it because of the impact on the environment."

The Herman Goldner Co., Inc. was awarded the project in June of 2009 and the job was completed on time and on budget in September of 2009. In a letter from Marvin Dixon, Director of Engineering – Four Seasons Hotel to Herman Goldner Co., Inc. President and COO, Steve Williams, Marvin said "Together, we have set a new standard and business model for our industry and I would highly recommend Herman Goldner Co., Inc. as a preferred partner for this type of project should anyone ask."
The project was performed by Herman Goldner Co., Inc.'s HVAC Special Projects Division. The Project Manager was Marc Marucci; Project Supervisor was Jim Fahey; On-Site Steamfitter Foreman was Chris Gazzara; HVAC Controls Department including Jim Coates and John Chase; Service Division Supervisor was Harry Murray; and the Account Manager was Rob Scanlan.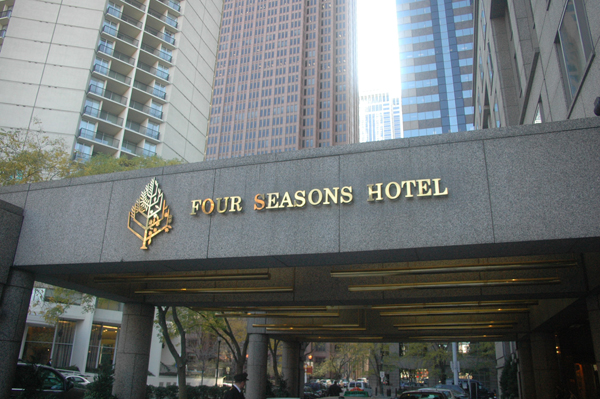 Download Article