Environmental health and safety are important corporate priorities at Herman Goldner Co., Inc. In an effort to increase productivity and provide employees with a safer work environment, Goldner worked to relocate, expand and renovate our existing outside weld fabrication shop and Vernon pipe cutting system to a new inside shop. The project also included the addition of a steel fabrication area, Victaulic pipe grooving station and a 60,000-square-foot blacktop laydown area to store fabricated pipe and equipment until they could be shipped to various job sites.
Matt Zsofka, Project Manager/Estimator, oversaw the renovation operation. Superintendent Jim Fahey and Joe Keenan, Manager of the fabrication shop, designed the new shop. The team was also responsible for designing the 11,200-square-foot radiant floor heating system that was installed to heat the area.
By expanding the shop by more than five times its previous size, the project allowed for the addition of two new welding stations, a band saw and iron man to cut steel angles, tables to handle 40-foot lengths of pipe for the Vernon cutter, three overhead swing jibs, a five-ton overhead shop crane, two hydraulic positioners and one electric positioner.
"One of the biggest challenges was keeping our existing shop in operation while we built the new facility," said Len DiTullio, VP of Construction. "We weren't replacing everything with new equipment, and we had to coordinate moving the existing equipment in the shortest amount of downtime. But, the biggest obstacle was that the electrical service for the new building was provided by the existing electrical feed for the old shop. This meant that when we cut the power to energize the new facility, the old shop could no longer be used."
Fumes generated by the four welding stations and the Vernon pipe cutting system proved to be an additional challenge. Goldner hired an engineer to ensure that the project remained compliant with OSHA requirements for the removal of smoke and fumes from the new shop. This consisted of moving approximately 24,500 CFMs through the use of five exhaust fans installed over each welding station and the Vernon cutter. Each fan is controlled by a variable frequency drive and is set to run on a programmed time to exhaust the shop when it is occupied by workers.
Initially scheduled to take six months to complete, the project resulted in an increase in productivity of 17%, which will cover the cost of the project itself over a two-and-a-half-year time frame.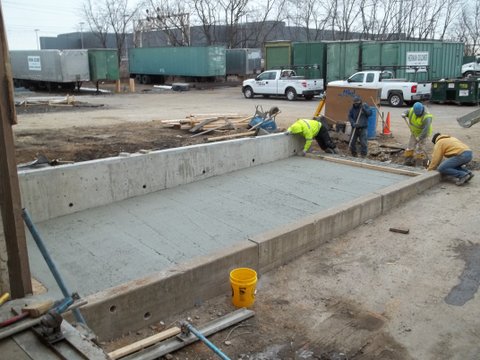 Download Article