Sophomores at Drexel University moved into their brand new dorm, Millennium Hall in September 2009 on 34th Street in West Philadelphia. With Goldner working on the parts of this dazzling dormitory that weren't so visible to the eye, this is just another building that displays the company's efforts in making this gorgeous new piece of architecture a green and environmentally-friendly building. This is the first building on Drexel's campus where students were empowered to make the decisions. "We gathered a student committee, right from the beginning, before the architects and we asked, What is it you would like to see?" Rita LaRue Gollotti of Drexel Business Services said. The building of Millennium signifies a big shift in the way Drexel is used to creating their dorm rooms. The focus is on energy efficiency and the students at Drexel University love that.
"It's Millennium Hall and it's the new millennium. We're getting more environmentally friendly and helping the earth."

- Kelsey Martin, Sophomore
Herman Goldner Co., Inc. was asked to partner with Erdy McHendry Architecture, Intech Construction and AKF Engineering to start this project in July 2008. A very aggressive building schedule completed this job by September 2009 and made it possible for students to move in to their new residence for the 2009-2010 academic year. This new 17 story residence hall in size is 103,000 square feet and accommodates 482 students. This project consisted of a new cooling tower that feeds new dorms with 8" underground condenser water piping, a Mechanical Room with 3 boilers, heat exchangers and pumps, first floor radiant floor heating, 16 dorms per floor (2nd-16th), 8 dorms on the 17th floor, 5 heat pumps per floor and 2 energy recovery makeup air rooftop units.
The new building rotates a half degree per floor creating it's unique look. Plumbing work with group bathrooms and showers are located on each floor. There is a mechanical room on the floor with booster pumps and hot water generators that serve the bathrooms and showers.
The project required team coordination from TJ Ditullio's CAD Department, to the onsite Plumbing General Foreman Mike Murtha and HVAC General Foreman Jim Shupe. Dan Garback's project management skills were key in pulling everything together between the field team, CAD Department, owner and construction manager.
This project was a success due to the concerted effort of all involved including our field steamfitters and plumbers.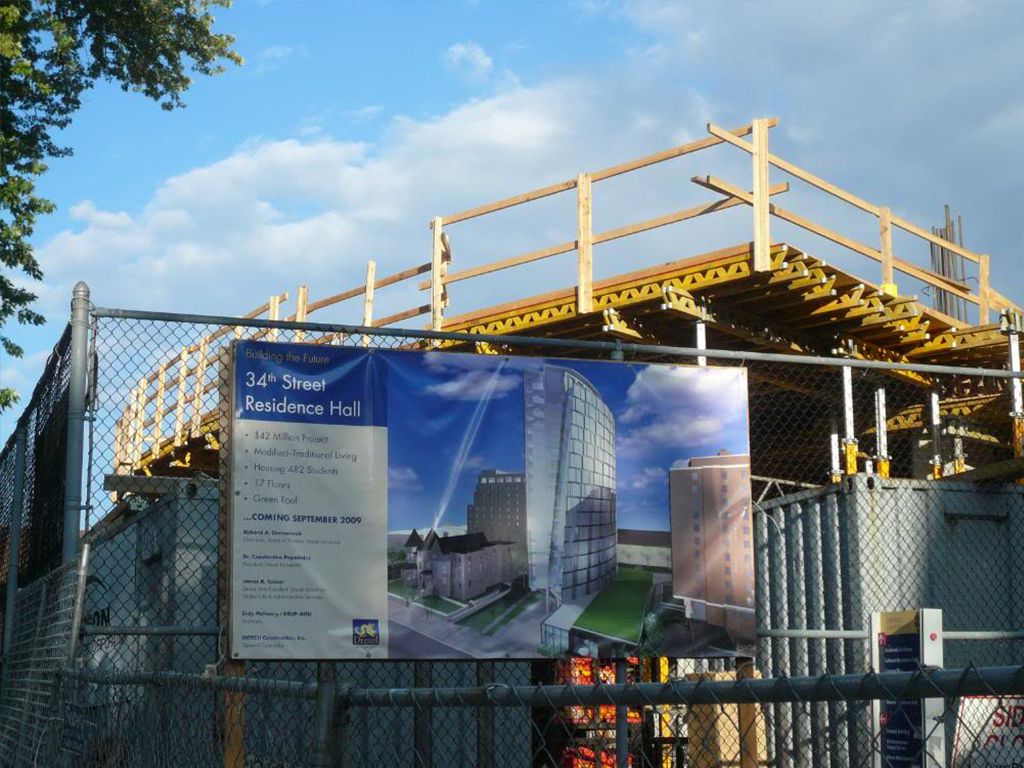 Download Article