'Providing Over a Century of Service to our Customers'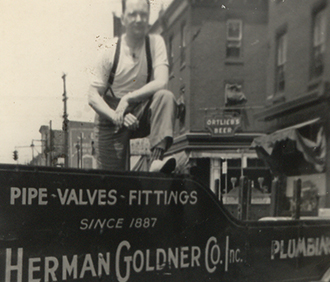 The Herman Goldner Company (HGC) has been in business since 1887. That's 125 years of continuing service to the Greater Delaware Valley. THE HERMAN GOLDNER CO., INC. is a full service mechanical and solutions provider. The Company has committed itself to providing quality craftsmanship with an emphasis on customer service. Meeting the needs of our customers is paramount within our organization. Our experienced team of Account Executives, Project Managers, Engineers and Skilled Tradesmen offer our clients quality, cost-effective solutions.
The fundamental concepts of 'Integrity', 'Service' and 'Quality' drove Herman J. Goldner to develop his business in a Philadelphia basement in 1887.
He delivered his supplies in a wheelbarrow and on a horse drawn cart. His principles of courtesy, integrity and service became a recognized trade mark and remained as a heritage for the successful business that followed.
The Company later moved from a Hancock Street basement to larger quarters at 425 W. Lehigh Avenue, and in 1919 was incorporated under the laws of the State of Pennsylvania.
Our Company Timeline
Project Spotlight
Drexel University's New Millennium Hall "Goes Green" with the help of Herman Goldner.
Sophomores at Drexel University moved into their brand new dorm, Millennium Hall in September 2009 on 34th Street in West Philadelphia. With Goldner working on the parts of this dazzling dormitory that weren't so visible to the eye, this is just another building that displays the company's efforts in making this gorgeous new piece of architecture a green ... read more...
What's New?
MERCK 2013 WEST POINT CONTRACTOR SAFETY AWARD
Merck formally recognized Goldner with their 2013 West Point Site Contactor Safety Award "for demonstrating exemplary safety performance and setting the standard for other contractors to follow in the effective management of their safety programs." ... read more...