Herman Goldner in the Community
Listed below are Herman Goldner's involvement and achievement in the community:
At this time, I would like to extend my appreciation to all those who have sponsored our Concept School Golf Outing, not only this year, but over the past years. Ronald Reagan once stated, "The work of volunteer groups throughout our country represents the very heart and soul of America. They have helped make this the most compassionate, generous, and humane society that ever existed on the face of this earth." I personally thank you for your commitment, so a new generation of Americans will go forth prepared to face their future. It is my honor to be associated with so many caring individuals, who through their combined efforts, helped The Concept School reach an incredible goal of $1,000,000 to support this school. We have witnessed how our economy has altered all we have taken for granted, and we are now faced with new challenges. This is why I truly am humbled by your commitment to stay the course and believe in the school and the commitment it represents.

With sincere gratitude,
Herman Goldner
Board President – The Concept School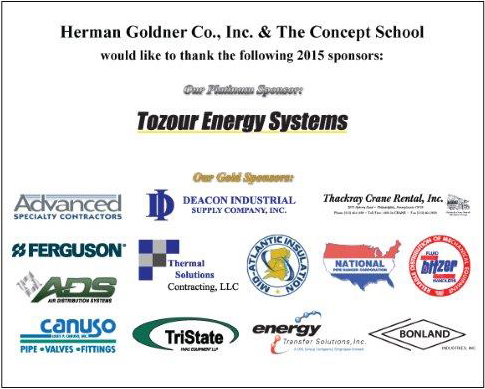 Project Spotlight
Drexel University's New Millennium Hall "Goes Green" with the help of Herman Goldner.
Sophomores at Drexel University moved into their brand new dorm, Millennium Hall in September 2009 on 34th Street in West Philadelphia. With Goldner working on the parts of this dazzling dormitory that weren't so visible to the eye, this is just another building that displays the company's efforts in making this gorgeous new piece of architecture a green ... read more...
What's New?
MERCK 2013 WEST POINT CONTRACTOR SAFETY AWARD
Merck formally recognized Goldner with their 2013 West Point Site Contactor Safety Award "for demonstrating exemplary safety performance and setting the standard for other contractors to follow in the effective management of their safety programs." ... read more...